Ended up doing 3 fanmixes and 20 icons. And look, it's not last minute! I think that deserves a moment and maybe some applause because I'm me and never do anything in advance.
Part I: Fanmixes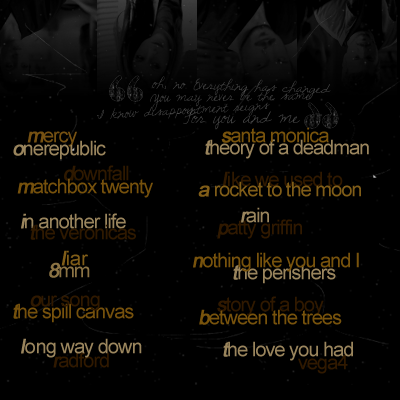 Songs are actually pretty out of order for their timeline and a lot of these deal with the affair(like Long Way Down. I will vid you, song!)
and New York(Love You Had). I could probably turn any song into a Maddison one, but these are my favorites right now, and to me,
they fit my beloved ship. Any questions about specific songs and why they're relevant(for any of the mixes) just ask because I could
write essays over each song I picked, but I didn't wanna make this post TOO massive.
1) Mercy-OneRepublic


Fortress of daylight
Caught me on stand-by
Waiting to catch the quickest plane
Flying to nowhere
Is better than somewhere
That's where I've been and nothing's changed

2) Downfall-Matchbox Twenty


Lay it down
I've always been with you
Here and now
Give all that's within you
Be my savior
And I'll be your downfall

3) In Another Life-The Veronicas


I know I said that I would keep my word
I wish that I could save you from the hurt
But things will never go back to how we were
I'm sorry I can't be your world



4) Liar-8mm


No, I don't miss you anymore
No, I don't think of you
It's such a game to seem adored
No, I don't love you anymore
I'm a liar

5)Our Song-The Spill Canvas


We never were
We'll never be
Strangers kissin' in the pouring rain
Chasin' after your leaving train
But we know that's not how our song goes



6) Long Way Down-Radford


Oh no, everything has changed
You may never be the same
I know disappointment reigns
For you in me
It's a long way down

7) Santa Monica-Theory of a Deadman


And I remember the day
When you left for Santa Monica
You left me to remain will all your excuses for everything

8) Like We Used To-A Rocket to the Moon


Fourteen months and seven days ago
Oh, I know you know,
How we felt about that night.
Just your skin against the window

9) Rain-Patty Griffin
It's hard to know when to give up the fight
Some things you want will just never be right
It's never rained like it has tonight before
Now I don't want to beg you baby
For something maybe you could never give
I'm not looking for the rest of your life
I just want another chance to live

10) Nothing Like You and I-The Perishers


We spent some time together drinking
Spent some time just thinking about days of joy
As our hearts started beating faster
I recalled your laughter from long ago
There's nothing like you and I




11) Story of a Boy-Between the Trees


This is the story of a boy who fell in love
This is the story of a boy who grows up
This is the story of a boy who fell in love
And the man he becomes

12) Love You Had-Vega4


I'll be there, by your side
In the morning
When you don't know how to breathe
I'll be there, by your side
To chase the dark clouds from the sky
And let the sun shine through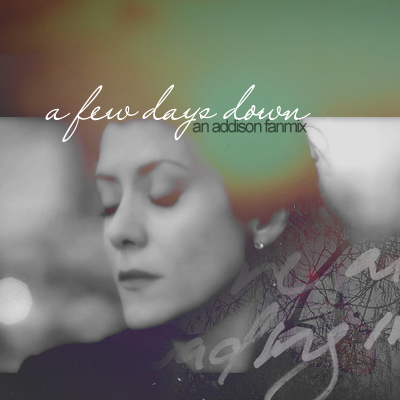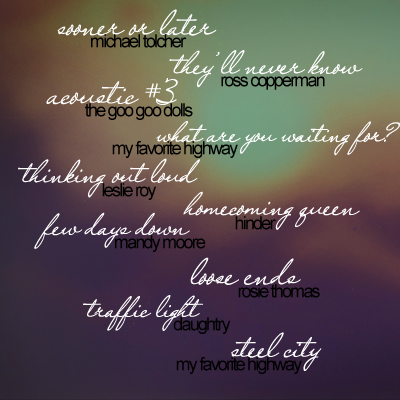 For the Addison one, I went sad because well, sad is easier than happy. When is she ever given happiness for more than an episode?
The first few remind me of baby Addison, even more now that we've actually had a glimpse of her younger and know just how broken
she is now. Others are just general Saddison. Poor girl.
1) Sooner or Later-MichaelTolcher


Save your questions without answers,
Till your old enough to know
That things ain't as they appeared

2) They'll Never Know-Ross Copperman

Cause all that you are
Is broken inside
But they'll never know
They'll never know


3) Acoustic #3-The Goo Goo Dolls
Your voice is small and fading
And you hide in here unknown
And your mother loves your father
'Cause she's got nowhere to go

4) What Are You Waiting For?-My Favorite Highway


Is there anyone out there
Who is listening to anything?
Is there anyone out there
Who can take my hand?

5) Thinking Out Loud-Leslie Roy
I've been living a lie
I've been running away for so long
I try to put on a face
And cover my heart
But I'm needing it now
So bad.

6) Homecoming Queen-Hinder


Its been five years since she left for LA
Shes an angel with a dirty face
And it seems to me
Shes a casualty of all the pressure
That we put on her

7) Few Days Down-Mandy Moore


If nobody sees you cry
You can say it was raining outside
And all they want
Is a few days down
All that you need
A little time to drown

8) Loose Ends-Rosie Thomas


She's gonna pack her bags & leave
No more loose, unraveled seams
She is young & she still has her confidence
And it's not too late to tie up those loose ends

9) Traffic Light-Daughtry
Or would you spend your last days alone
Thinking nobody would have cared to know
Just look me in the eye and see that it's a lie
So you're telling me this is how you're going down
You thought that I never really wanted you around
Well you were way off track to think like that





10) Steel City-My Favorite Highway


She tries to explain, oh boy
I wanna be fixed, I wanna be broken
I wanna be closed, I wanna be open
The love I thought had died is still alive and I hope that you don't mind
She says December will help me remember
The place that my heart calls home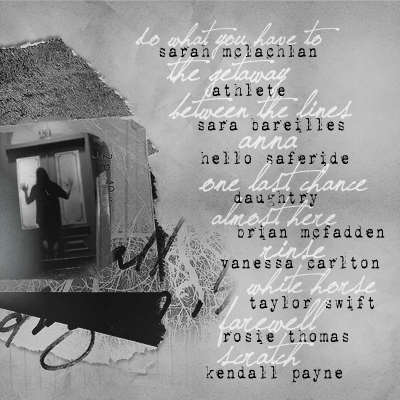 This is a sad mix again because Addison and Derek are balls of angst. Mostly Addison's pov, but some Derek songs thrown in there as well,
failed relationship, attempted reunions, and what-ifs(Anna!).
1) Do What You Have To Do-Sarah McLachlan


The yearning to be near you
I do what I have to do
But I have the sense to recognize
That I don't know how
To let you go

2) The Getaway-Athlete


I never really know who you are
You could be a ghost for all i know
whenever you're home
Used to be closer than my skin
Turned a blind eye to the odds and i bet everything

3) Between the Lines-Sara Bareilles
Too late, two choices, to stay or to leave
Mine was so easy to uncover
He'd already left with the other
So I learned to listen through silence

4) Anna-Hello Saferide


She could have married a Kennedy
She would have found the cure for HIV
I'm real sorry Anna, you never got to be
'Cause your daddy moved on and he left me

5) One Last Chance-Daughtry
I know this will take time
Can we put the past behind us
Tonight I wanna fight for you
Just give me one last chance to make it right
Last chance to make it right

6) Almost Here-Brian McFadden


You're almost here
And I know that's not enough
And when I'm with you
I'm close to tears
'Cause you're only almost here

7) Rinse-Vanessa Carlton
She'd do anything to sparkle in his eye.
She would suffer
She would fight and compromise.

8) White Horse-Taylor Swift

Say you're sorry
That face of an angel


Comes out just when you need it to


9) Farewell-Rosie Thomas
Farewell so long
I was wrong, I guess
Farewell so long
I was wrong, I confess

10) Scratch-Kendall Payne


I'm so afraid of what you'll say
I'd like to know if you'd be open to starting over from scratch
I'd like to know if you'd be open to giving me a second chance
Part II: Icons

| | | | | |
| --- | --- | --- | --- | --- |
| Age | Goodbye | Hate | Innocence | Love |
| | | | | |
| Middle | Sexy | Smile | Superior | Tired |
| | | | | |
| Artist's Choice | Artist's Choice | Artist's Choice | Artist's Choice | Artist's Choice |
| | | | | |
| Artist's Choice | Artist's Choice | Artist's Choice | Artist's Choice | Artist's Choice |
| | | | | |
Current Mood:
grumpy
Current Music: Between the Lines-Sara Bareilles